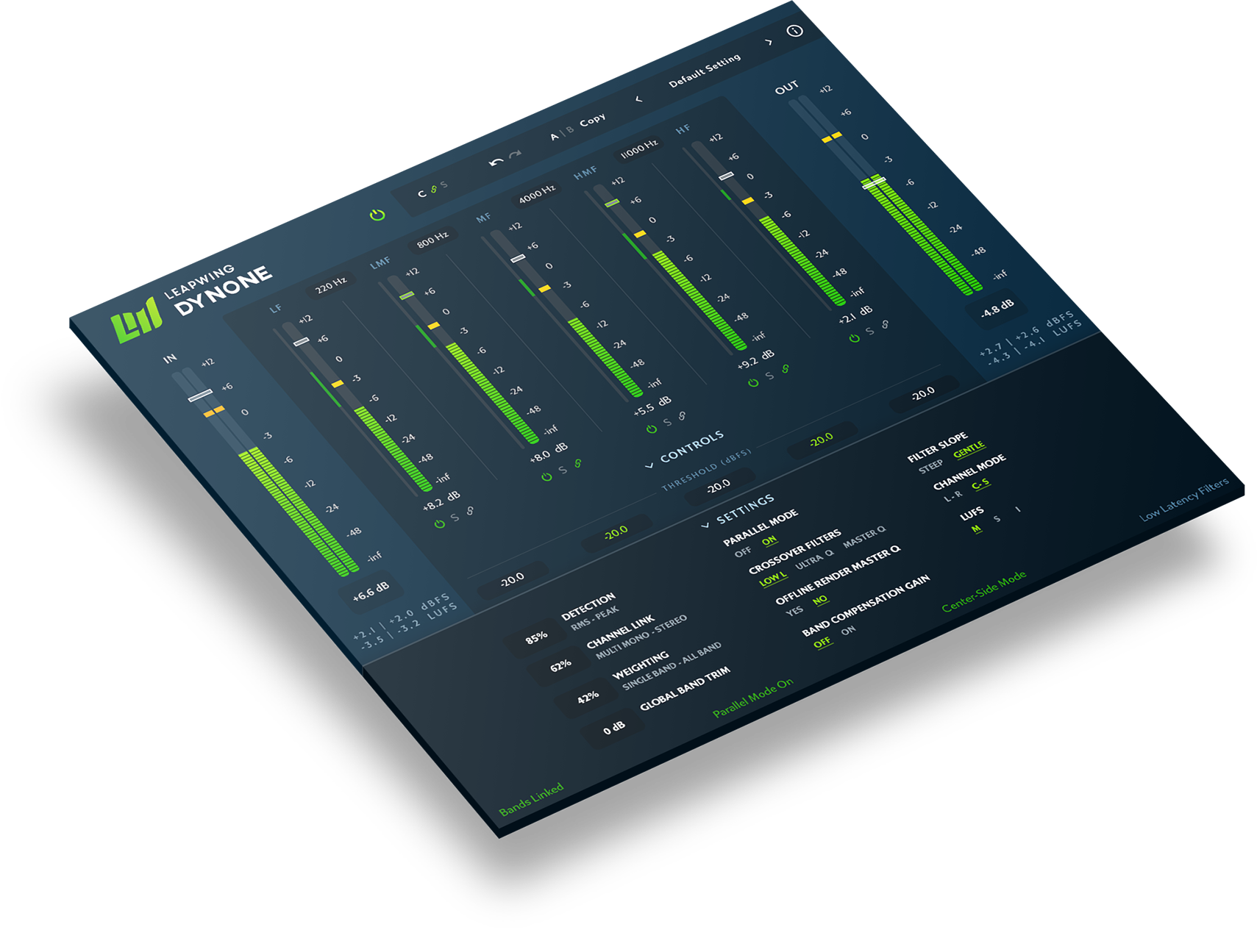 DynOne 3 Dynamics Plugin
The ultimate smart parallel multi-band dynamics processor.
Add to cart
DynOne 3 Features
Many multiband compressors take too much time to set up and tweak. DynOne 3 has been redesigned with a beautiful resizable retina design that focuses on workflow. It also include variable crossover filters, unique weighting algorithm, and a proprietary Center-Side Mode. DynOne 3 also uses min-max values for attack and release, and applies variable timing values depending on whether the signal is transient in nature or not. You can simply blend in your compressed signal with the original.


Exquisite Crossover Filters
5 bands with custom-built linear-phase crossover filters that are variable in frequency


Enhanced control for mixing and mastering
From variable RMS vs peak detection, to stereo linking percentages, all the way to smart variable controls


Simple yet beautiful design
Beautiful resizable Retina interface with unique design, focused on the optimal workflow


Extremely good filters
The highest quality FIR filtering we can run on modern CPU


Multiple DAW & OS Compatibillity
Available on Mac OSX (10.9 +), Windows 8, 10 (64-bit only) in AAX-Native, VST, VST3 and AU
Download our free fully functional 30 day trial
How it works
Ricky Damian Discovers DynOne 3
Emiliano from Leapwing Audio visits Electric Lady Studios in NYC to sit down with Ricky Damian and discover DynOne 3.
How to Enhance the Drum bus
Maria Elisa Ayerbe shows how she uses DynOne to enhance the sound of the drum bus.
Our 3 key features
1. Highest quality XO filters
Our crossover filters have been custom designed to interact with each other, in order to avoid phase alignment issues between bands, something you do have with traditional multi-band compressors. In DynOne 3 we even made them variable so you can tweak them fully.
2. Adaptive attack/release timing
We felt that having traditional attack and release times didn't really give you the best sounding result. When you're working with transients vs sustained sounds, you often want to have different attack and release times. This is why we use min and max attack/release times.
3. Easy to use and intuitive GUI
We aim to build plugins that sound good from the moment you start using them, not having to waste precious creative time. We spent countless hours of R&D time to look at the best ways of visualising all the bands so you can tweak everything intuitively.
Endorsements
"If what you are looking for is a transparent level or loudness raise, I recommend DynOne, which has the most transparent parallel compression I've heard. It can "invisibly" raise the level of a recording a considerable amount without creating any artifacts. In fact, it's so invisible you may have a hard time believing it's actually in your chain."
Grammy winning mastering engineer
Paquito D'Rivera, Sinéad O'Connor, Dizzy Gillespie, Livingston Taylor, McCoy Tyner
"It's love at first listen for me. The DynOne is a winner."
Grammy winning producer and mixer
Adele, Dua Lipa, Pink, Katy Perry, OneRepublic, Keith Urban
"The DynOne does dynamic compression differently from any other compressor I know plus it can achieve the desired result with far less fuss and with terrific musicality."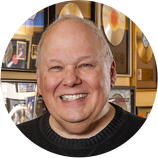 Grammy winning mastering engineer
Led Zeppelin, Queen, Jimi Hendrix, Paul McCartney, Nirvana, Daft Punk
"The DynOne is an ideal mastering type multiband compressor. The amount of parameters allows very subtle and natural compression on a track to something quite impressive and severe with a bit of manipulation of the individual multiband adjustments. It can add a good amount of life and excitement, perfect for the finishing touch on a mix!"
Grammy winning producer & engineer
Frank Zappa, White Stripes, U2, Alanis Morissette, Beck, The Strokes, Morrissey, Christina Perri, Jason Mraz
"The sound is mental, it got me 80% to my default mastering chain by only using the faders in under 10min. I'm so excited to dig deeper into their impressive timing options. Top notch <3."
Bassnectar, Ellie Goulding, Rick Ross, The Prodigy, Gucci Mane, Method Man, Ghostface Killah, Nina Simone
DynOne Dynamics Plugin
The smart parallel multiband dynamics processor.