CenterOne Spatial Plugin
Adjust your phantom center signal without changing the panorama or spectral characteristics.
Add to cart
CenterOne
CenterOne lets you adjust your phantom center level of a stereo source and even separate your center and side signals. Whether you need to bring prominence to a lead vocal without changing stereo content, or if you want to isolate centered and panned audio, CenterOne's original approach gives you unparalleled control. The unique algorithm adjusts center levels without compromise in sound quality between your new audio signal and the original source, so expect clean audio for each part of your mix, and feel confident to apply the plugin in a variety of contexts.

Phantom Center Control
Change the levels and balance of stereo audio with intelligent control over centered content. Fine tune the perfect stereo balance without affecting the integrity of your sound

Extract Left-Center-Right
Extract stereo elements into lossless (bit-identical) Left-Centre-Right stems and work on them separately for unique panorama control

Beautiful design with optimal workflow
Beautiful Retina design with all controls on one screen. Clear metering lets you see the changes as you hear them. Think in terms of creativity rather than settings.

Best-in-class filters
Original algorithms let you alter elements in a mix transparently, without compromise on clarity or quality.

Wide compatibility
Available on Mac OSX (10.10 +), Windows 8, 10 (64-bit only) in AAX-Native, VST, VST3 and AU

Made by a dedicated support team who listen to the community
Download our free fully functional 30 day trial
How it works
Promo video
Have a closer look at how the algorithms work as well as the key features of the plugin.
How to Open Up a Music Stem
Maria Elisa Ayerbe shows how she uses CenterOne to open up a music stem.
What sets CenterOne apart?
Better than Mid-Side processing
The Center Prominence algorithm at the heart of CenterOne analyses the exact phantom center to transparently adjust stereo audio. This approach avoids the phase shifts or panorama imbalance issues that arise when Mid-Side techniques fail to split the signal cleanly.
Adjust your phantom center
Change the level of center audio until the balance is just right, such as bringing prominence to lead vocals in a mix, or make room for the vocals in a guitar stem. You can leave the unique left and right signal untouched, and any changes you make to the phantom center doesn't affect the timbre or quality of the sound.
Extract phantom center and side
CenterOne has Left-Center-Right audio outputs so you can process each independently. This gives a world of creative options on each part of your stereo audio, and transparent algorithms mean that the signals can be recombined to be bit identical to the original source.

Bring the best out of a great recording!
Endorsements
"CenterOne is perfect for widening a congested and mono synth pad. Also great for adding width to the drum ambiance that might be a bit too center channel heavy. CenterOne allowed me to get a clearer center channel in my mixes..."
Grammy winning producer & engineer
Frank Zappa, White Stripes, U2, Alanis Morissette, Beck, The Strokes, Morrissey, Christina Perri, Jason Mraz
"I just worked a miracle with the new Leapwing Audio CenterOne plugin. Seems clients are always sending me the challenging projects!"
Grammy winning mastering engineer
Paquito D'Rivera, Sinéad O'Connor, Dizzy Gillespie, Livingston Taylor, McCoy Tyner
"Finally there now is the Primal Tool to add or subtract center information in a stereo signal."
Recording and Mixing Engineer
Simple Minds, Rammstein, The Scorpions, Common Linnets, Manowar, Alain Clark and Peter Maffay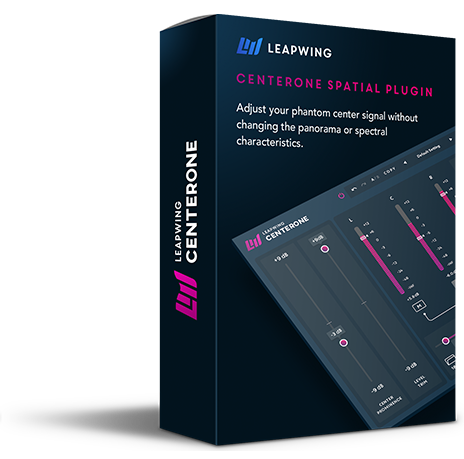 CenterOne Spatial Plugin
Adjust your phantom center signal without changing the panorama or spectral characteristics.